Barbarians at the gate! The fall of the Employment empire.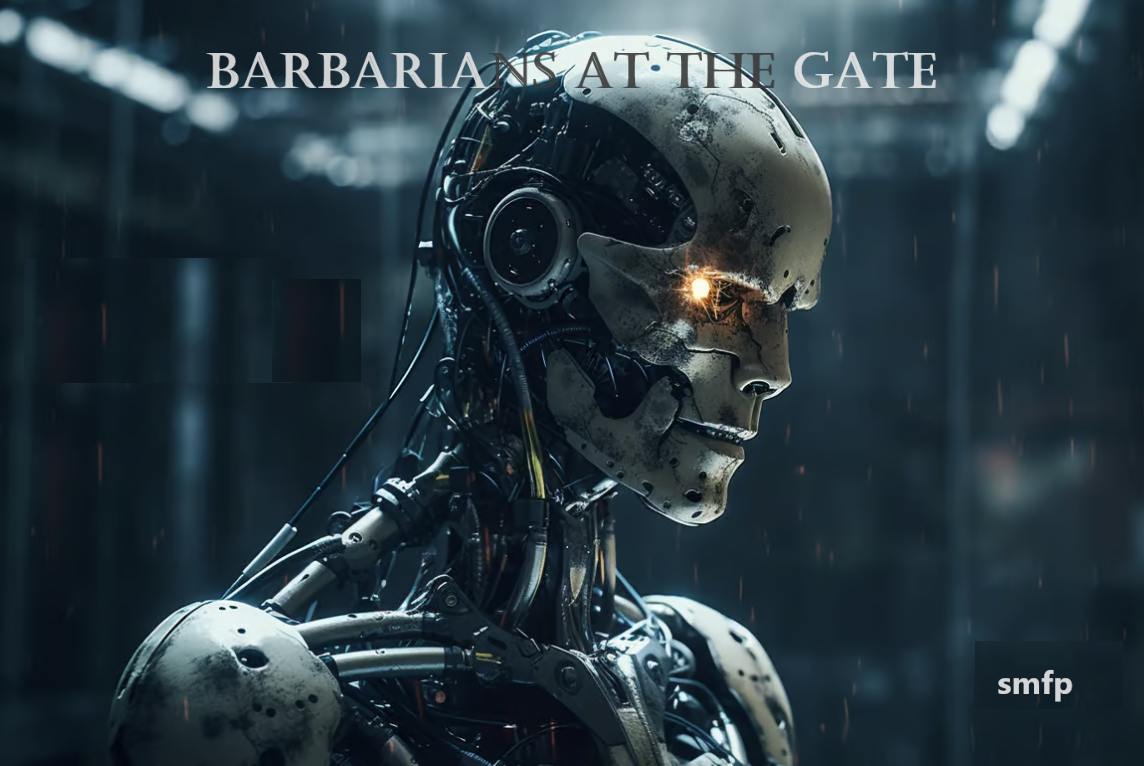 In 2019 the Organisation for Economic Co-operation and Development predicted that automation technologies would eliminate 14% of the world's jobs and radically transform another 32%. Then regenerative AI arrived (ChatGPT and its hordes).
These new technologies are very good, and maybe better than most humans, at things like coding, research and writing. Here are some of the exams ChatGPT has passed;
While GPT-3.5, only scored in the 10th percentile of the Bar Exam, while its successor, GPT-4, scored in the 90th percentile with a score of 298 out of 400.
GPT-4 aced the SAT (Scholastic Aptitude Test) Reading & Writing section with a score of 710 out of 800 and 700 out of 800 for the math section.
GPT-4 scored over the 99th percentile on the 2020 USA Biology Olympiad semifinal exam.
GPT-4 has passed the Introductory Sommelier, exams with a mark of 92%.
GPT-4 passed the Wharton MBA exam with a B grade.
US medical licensing exam. ChatGPT passed all three parts of the United States medical licensing examination within a comfortable range.
ChatGPT recently passed exams in four law school courses at the University of Minnesota
Artificial Intelligence will know far more than any human and probably already does. GPT-4 is much better than GPT-3.5 but less than a year older. I should note however that the latest version (GPT-4) still makes a mess of calculating how long super funds will last and does a worse job than its predecessor.
The average half-life of skills is now less than 5 years and, in some cases, less than 3 years. For those new to the concept, this means that if the half-life is 5 years, then much of what you learned 10 years ago is obsolete and half of what you learned 5 years ago is irrelevant. One wonders how many students are preparing for a career that requires skills with very low life expectancy that may be irrelevant at graduation.
Where does this leave financial planning?
"Delegators", a personality type, will always prefer to deal with a human they can hold accountable and are much more willing to pay higher fees for this service. No-one knows how big this segment is but APRA found about 20% of SMSF members were "delegators" and 80% were more "DIYers". My good friend GPT-4 would not be drawn on the subject, suggesting people delegate in some areas but not in others.
Adviser Ratings' Landscape report (2022) found 100,000 clients dropped out of their advice services over the year, taking the total cohort of advised Australians to just 10.1 per cent of the adult population, down from 13.9 per cent in 2018. From 2018 to September 2023 adviser numbers dropped from around 27,000 to 15,700, an astonishing decline.
Most Australians like a bit of control and are increasingly comfortable with AI doing the heavy lifting. Hybrid advice is the future with AI playing an increasingly larger role by instantly researching, analysing and calculating, with results we can trust.
SMFP, (self-managed financial planning) for example, provides financial planning calculators, info-grams and explanations with the ability to have queries answered by email and, if requested, full advice from a licenced adviser. In an industry first they incorporate AI allowing users to use "voice only" on their Alexa device.
The new Barbarians carry a double-edged sword – the promise of greater efficiency while destroying jobs.